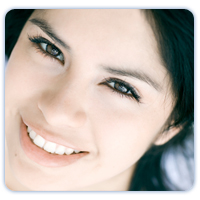 Permanent Make-Up
Inspired by tattooing, permanent makeup can beautify a face permanently. What woman has not dreamed of having to constantly look good? Permanent makeup is also used to correct or hide imperfections.
Principle
Technical development of the face consisting of injecting mineral pigments in the skin of the face. These pigments are clinically tested to ensure that, once implanted under the skin, they will not result in infection. These pigments are available in different colors, which can reproduce the effect of a makeup.

The similarity with the tattoo is that of "draw" on the skin, but the permanent makeup is not final. Injection of pigments in this area (second layer of skin), while the injection for a tattoo, is deeper.
Why use it
Permanent makeup meets several needs: to be always masked (disguised as staying out of a swimming pool, playing sports, getting out of bed ...) and correct defects (imperfections of the face, no hair, depigmentation ...).
Information and advice
Permanent makeup can beautify the face by highlighting certain elements or correcting.
Examples of options:

• pigmentation of the eyebrows
• Outline the lips
• lip stain
• "Eye Liner"

Unlike tattooing, permanent makeup is not painful. Its duration depends on the color of pigments (between 2 and 4 years).

It is important to choose the professionals of the skin (dermatologists, estheticians) dermography specialized for this type of makeup.